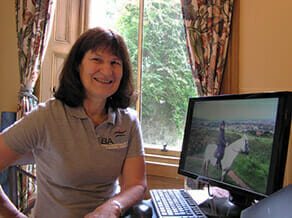 Common Conditions Treated at the How Clinic Include:
Back Pain & Lower Back Pain
Neck pain
Sports Injuries
Arthritis & Rheumatism
Osteoarthritis
Pregnancy
Repetitive Strain Injury (RSI)
Slipped Discs
Frozen Shoulder
Tendonititis & Plantar Fasciitis
Patient Centred Osteopathy at the How Osteopathic Clinic Edinburgh
Edinburgh osteopath Helen How has been sucessfully treating patients at the How Osteopathic Clinic (Trinity, Edinburgh) for nearly 30 years.
Registered with the General Osteopathic Council, Helen combines the latest advances in osteopathy with a gentle patient-centred approach to diagnosis and treatment. This ensures that osteopathic treatment at the How Osteopathic Clinic Edinburgh is suitable for a wide-range of conditions including; back pain, neck pain, sports injury, arthritis and rheumatism and repetitive strain injury.  Helen is a Member of the British Association of Sports and Exercise and a Member of the Osteopathic Sports Care Association
Helen also treats babies and children and has had successful results when dealing with childhood complaints such as grumpiness  feeding problems and restlessness.
Treatment at the How Osteopathic Clinic is tailored to the individual and will depend upon the symptoms and condition of the patient. As an experienced osteopath Helen will often use a combination of osteopathic techniques including, Traditional Osteopathy, Cranial Osteopathy, Ultrasound and Shockwave Therapy.
Helen How : Osteopathic Training & Certification & Learning with Physiotherapists
Trained by the European School of Osteopathy Helen combines the hands on principles and techniques of palpatation and tonal progression and uses traditional osteopathic techniques such as Myofascial Unwinding as taught by Professor John Upledger,  Continual Learning with courses by physiotherapists The Adult Hip and Groin Beony Mathews & Glen Robbins  Lower Limb Tendinopathy Dr Peter Malliaras (Research Physio) Understanding Tendinopathies of the Hip and Pelvis Dr Alison Grimaldi (Research Physio)  ~The Shoulder & Online Steps to Success of the Shoulder Jo Gibson The Shoulder  Theory & Practice Professor Jeremy Lewis Integrating Strength & Conditioning of Runners  Beony Mathews & Glen Robbins Running Repairs online Tom Goom  Masterclass In Running Injuries  Dr Christian Barton & Brad O Neal Helen is has attended BASEM Conference Leeds Oct 4th 2018 then WeekEnd Warriors Brighton 6th-7th  Oct 18 PatellaFemoral and Knee Pain at Royal Infirmary of Edinburgh by Claire Robertson 3rd Nov Strength & Conditioning in Runners and training Beony Mathews and Hip and Groin Review in Falkirk Nov 10th & 11th  Applied Clinical Taping in General Ostepathic Practice December 9th
Osteopathic Research & Comittment to Patients Report Outcomes Research Project by NCOR
As a practising osteopath Helen is particularly interested in the changes to our bodily structure and the health issues created  created by the increasingly sedentary lifestyles we lead.  Her research into and further training on muscular skeletal disorders such as tense fibrotic muscles and muscle degeneration has led to the integration of modern osteopathic techniques into her treatments and she is fully trained in the use of Electrotherapy, NMES and Ultrasound. Helen is one of the few non-NHS osteopathic clinics in Scotland to be certified to give  Shockwave Therapy as part of her osteopathic practice at the How Clinic in Edinburgh. Helen has now has the only Focus Shockwave Therapy by Storz Medical in Scotland Focus is more effective and faster for long term conditions such as Plantar Fasciitis, Proximal Hamstring Tendinopathy and other chronic tendinopathies
Helen is the author of a popular blog about osteopathy "Osteopath Edinburgh" in which she details the latest advances in osteopathic treatments as well as writing articles about how to maintain your health and wellbeing. You can read Helen's blog at www.osteopath-edinburgh.com/
Very Effective Treatment at a Very Reasonable Cost
It's simple: Helen's passionate about her work, she knows what she's doing and she charges far less than she could. What more could you ask?

Jane, Edinburgh

To read more independent reviews of the How Osteopathic Clinic please visit our testimonials page
Contact Helen How at The How Osteopathic Clinic
To arrange your appointment with Edinburgh osteopath Helen How, contact The How Osteopathic Clinic Edinburgh by email or telephone 0131 551 1044.
Treatment £50 50 minutes
Radial Shockwave Therapy £52 50 minutes
Storz Medical Focus Shockwave Therapy £80 per 50 minutes
Half-hour treatment sessions now available – £35 per 30 minutes.
Please the appointments are booked for each hour but Helen needs 10 minutes for administration in between each treatment session