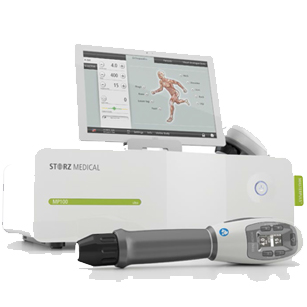 Shockwave Therapy is a modern & effective osteopathic treatment that can be used to relieve a wide-range of symptoms including:
Sciatica
Arthritis & Rheumatism
Plantar Fasciitis
Tendon Pain
Tennis Elbow
Sports Injuries
Back pain
Lower Back Pain
Joint Pain and stiffness
Neck Pain
Frozen Shoulders
Achilles Tendinopathy
What Is Shockwave Therapy? Focus or Radial Shockwave Therapy ?
Helen has the first and only Focus Shockwave Therapy by Storz Medical in Scotland
Shockwave Therapy is a modern and highly effective addition to osteopathic treatment and the How Osteopathic Clinic Edinburgh is one of the few non-NHS or sports club aligned clinics in Scotland to use it in general osteopathic practice. Helen has the first and only  FOCUS SHOCKWAVE THERAPY by Storz Medical in Scotland  and the traditional less expensive Radial Shockwave Therapy by Storz Medical

Initially used to dissolve kidney stones without the need for surgery, the use of Shockwave Therapy to treat musculoskelatal disorders and tendon pain began in the 1990's.  Subsequent medical trials have shown a significant increase in the healing process when Shockwave Therapy is used as part of osteopathic treatment.

How Does Shockwave Therapy Work?
The term Shockwave refers to the mechanical processes that expend as a wave in the body. A high amplitude wave frequency is produced and this creates a resonance effect which is generated by kinetic energy from the machines' handpiece. There are two types of shockwave therapy Radial and Focus Shockwave Therapy Focus is much more gentle to feel on the skin but it goes deeper than radial and it is considered better for chronic painful conditions such as plantar fasciitis   Radial is more noisy and less expensive while Focus is more expensive but one needs few sessions
The resonance (shockwave) is able to pentrate deeply into the affected area, stimulating blood flow to facilitate deep tissue healing and removing inflammation while the shockwaves also assist in the stimulation of pro-collagen synthesis enabling tendon regeneration and repair. The resonance created by the shockwaves may also considerably reduce painful sensation by reducing nerve irritation.
What is Shockwave Therapy used to Treat?
Shockwave Therapy is successful in treating a number of chronic and long-term complaints for instance here is a Shockwave Therapy for Chronic Achilles Tendinopathy by a NHS Nurse
All osteopathic treatment is centred upon the individual and so there is no comphrensive list of complaints which utlise Shockwave Therapy. As part of your initial consultation and diagnosis, your osteopath Helen How will will assess the osteopathic treatment best suited to your specific requirements. Shockwave Therapy may be used as part of your treatment depending upon your condition and symptoms.
However, some of the conditions which are relieved by Storz Medical Focus Shockwave Therapy include: back pain and lower back pain, tennis elbow, hip pain, tendon pain and damage to tendons (including damage to the Achilles tendon).
Is Shockwave Therapy Safe? It is useful to read personal experiences in success stories using shockwave therapy
Despite the rather frightening name, Shockwave Therapy does not give you a "shock" but is instead a very gentle and effective osteopathic treatment for a large number of chronic and painful conditions, which one combines with exercise and rehabilitation management.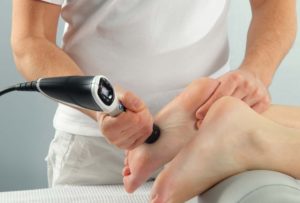 Here are some recent Shockwave Therapy Success Treatment Stories so you can read the experiences of shockwave therapy Here is Heel Pain or Plantar Fasciitis    Chronic Back Pain and Tennis Elbow   Marathon Runner and Severe Chronic Limping Achilles Tendinopathy  Hip Pain (Gluteal Hip Tendinopathy )
Shockwave Therapy is an adjunct to Medical Assessment, Diagnosis and Clinical Reasoning  First you may have seen your General Practitioner for a Medical Assessment or your Consultant  Imaging, Diagnosis such as MRI and Diagnostic Ultra Sound facilities are not provided however a referral letter or note helps your General Practitioner with informed Clinical Reasoning
Rehabilitation of Recreational Runners (Strength Training, Conditioning Strategies and Running Re-Training By Beony Mathews and Glen Robbins had an interesting fact that one is 3 times more likely to injure if one exceeds running more that 40 miles per week  A safe limit is to keep within 5 to 10 Km to half a marathons
Weekend Warrior held in Brighton 2018  was another excellent course for learning about running injuries and how to reduce the injuries
Also do read the excellent Tom Goom The Running Physio Resource on Running 
Patella Femoral Pain is with Runners  Helen has recently updated with Patella Femoral Pain with Claire Robertson   and Masterclass In Running   Running has become increasing popular activity with a very  high risk of injury so keeping current with all the type running injuries, volume training loads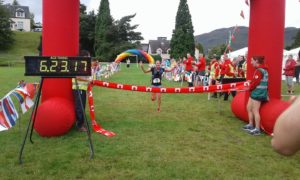 Returned to Running After Achilles Tendinopathy
Over 30 years of running had finally caught up with my Achilles. This time the injury was so bad I had difficulty even walking. Helen has me back running again. Her experience and knowledge combined with Shock Wave Therapy, and the other machines she uses has worked wonders. Together, we also worked out a rehabilitation programme involving stretching/exercises and long slow strength building activity. Thanks Helen.

Mali, Edinburgh

To read more independent reviews of the How Osteopathic Clinic please visit our testimonials page
Contact The How Osteopathic Clinic
For more information on Shockwave Therapy or to book your appointment with Edinburgh osteopath Helen How, contact The How Osteopathic Clinic Edinburgh by email or telephone 0131 551 1044.
Treatment £50 for 50 minutes The appointment takes one hour in which 10 minutes is for administration
Radial Storz Medical Shockwave Therapy £52 per 50 minutes
Focus Storz Medical Shockwave Therapy £80 per 50 minutes (includes consultation & treatment and rehabilitation exercises  If you require more one region for Focus Shockwave Therapy then the cost has to be increased to £85.Please Notel Focus Shockwave Therapy in London is £150
Half-hour treatment sessions now available – £40  per 30 minutes.for radial shockwave only
Please Read Shockwave Therapy Experiences and Success Stories by Helen on VennhealthCare Website