What to Expect During your Osteopathic Appointment
On your first visit to the How Osteopathic Clinic Edinburgh, your osteopath Helen How will begin by taking your full medical history. This will include questions about your diet, lifestyle, any medical problems or health issues may have or have had in the past as well as questions relating to your current symptoms, areas of pain and/or stiffness or mobility issues. All of the information you give is in the strictest confidence so do give as much detail as you are able to. If it is possible you will fill some of your case history details  Taking your Case History is time-consuming and maintaining case notes is part of the Osteopathic Practice Standards so your first visit will not have as much time as you would like to shared decision treatment options.
Please if you have a Shoulder Pain  please listen to this link by  Professor Jeremy Lewis on the pitfalls of assessment, diagnostic  for  shoulder pain including imaging, surgery or not surgery as there are so many different pain structures in a shoulder  
Helen will then carry out an osteopathic examination which will enable her to assess your condition or problem. You may be asked to undress to your underwear while the examination is carried out (towels are provided). Once the examination is complete Helen for shared valid consent all healthcare professionals know how to provide information, contraindications, risks, and benefits.  This process can take up to 15 minutes so the actual treatment time varies between 30 to 40 minutes depending case history discussion changing, and dressing again.
After your examination, which can take 10 minutes the treatment time is limited due to shared valid informed consent and GDPR  The type of osteopathic techniques always includes exercises and rehabilitation.  Helen uses Physitrack to provide you the education, outcomes data, and peer-reviewed video clip exercises as part of your treatment which varies depending upon your problem but may include Traditional Osteopathy, Cranial Osteopathy, Vibrotherapy, Exercise Rehabilitation, and Deep Muscle Massage.
There has been much-increased requests for Shockwave Therapy as an adjunct to home exercise programs for your condition. There are two types of Shockwave Therapy Focus and or Radial Shockwave Therapy   Helen is delighted to have Focus Shockwave Therapy by Storz Medical in Scotland   Helen was over visiting Storz Medical Switzerland with her other colleagues and physiotherapists in June 2018 Here is NHS  Senior Physiotherapist Andrew Davidson London Homerton Hospital one of the several physiotherapists who visited Switzerland discussing in this Podcast June 16 the use of shockwave therapy with rehabilitation for you to listen too
Please note that an Osteopath must have signed consent with your shared decision  with the patient to your General Practitioner
Helen  has appreciated having  access also  to refer onwards for Medical Opinion and further imaging by  two experienced World Class Sports Doctors based here in Edinburgh  Sports Doctors are able to provide Medical Options as well  rehabilitation and exercise support and advice This referral to Sports Physicians has been greatly welcomed  THANK YOU
As Helen attended many courses and has excellent video clips and course notes and video clips which provides a wealth of knowledge and information.  Helen cannot go through all the video clips and wealth of courses and lecture information in one appointment  It takes more than one appointment So Helen must keep to one hour for each person
Please read as information if you have any low back pain and gluteal pain as this is raising everyone`s awareness of Cauda Equine Syndrome
Scottish Champion 5 Km 2019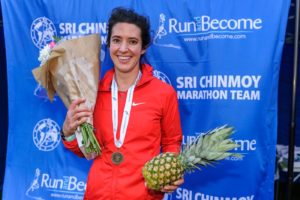 Your First Visit with Osteopath Helen How – Useful Hints & Tips
Wear loose fitting clothing – a tracksuit or jogging bottoms are ideal
Any information you give to your osteopath Helen How, is confidential so please be as honest as you can when answering any questions.
Allow plenty of time for your appointment – unlike many osteopaths, Helen devotes a full hour to your treatment as well as giving plenty of consultation time. You will not be in and out within the hour!
If there is anything you don't understand or would like more information about then please ask Helen, this is your treatment and it is important that you know what is being done and why
If you have any concerns or worries, do discuss them with your osteopath, Helen How.
The pain free begins with plentiful, free & easy parking adjacent to her practice and same level access into her treatment room – no nasty stairs!

She (Helen) will allocate you an appointment very quickly usually within 24hrs of your call & can usually allow for emergency treatment… much to my surprise & delight each client is allocated an hour which allows an unusually long treatment time (usually restricted to 20mins with other therapists).

She is well read in up to the minute research and can resolve tricky problems as she has a deep extensive knowledge with the best collection of machinery I have every seen; the shockwave therapy  has improved my back more in a few sessions than others have managed over the last four years.

And if that was not enough – there is no hard sell or arm twisting – return appointments are at your own request!!

So if what you want is – honest to goodness osteopathy then look no further you will not believe the incredible service you receive at the hands of Helen 

Helen can send you out your rehabilitation exercises sometimes on What`s App or physitrack  Some people prefer a printed sheet of exercises which Helen can provide also

T Kenyon, Edinburgh

To read more independent reviews of the How Osteopathic Clinic please visit our testimonials page
Contact The How Osteopathic Clinic