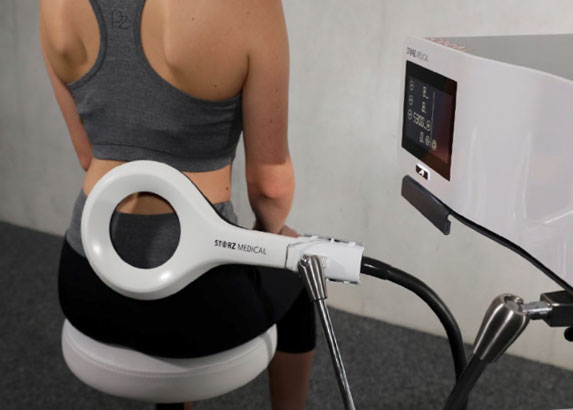 EMITT can be particularly used non invasive  treatment for:
Lower Back Pain
Knee and Anterior Knee Pain
Sprains and Stiffness
Arthritis and Joint Pain
Sports Injuries
Shoulder Pain
What is the Magnetolith?
The Magnetolith is a non-invasive, ambulant therapy which uses a high frequency magnetic field (100 – 300mHz) to provide relief from a wide-range of muscular complaints including lower back pain and tendinopathies of the rotator cuff or achilles tendon. An innovative therapeutic method for treating disorders of the musculoskeletal system Extracorporeal Magnetotransduction Therapy (EMTT®) is a non-invasive treatment solution that has been specially developed for treating musculoskeletal pain. Treatment is hands free, quick and does not require the patient to be undressed.
How does the Magnetolith Work?
The EMITT Magnetolith works by placing the therapy loop over the area which requires treatment. High frequency magnetic impulses are then transmitted directly into the affected area. The high level of oscillation used by the Magnetolith (between 100 – 300kHZ) allows penetration of up to 18cm allowing your osteopath to reach areas which may not be accessible to other osteopathic therapies. EMTT treatment can have a positive chemical reaction in pathologically altered cells, allowing the cell metabolism to be reactivated and the normalisation or resetting of natural psychological processes.
When carried out by a qualified therapist who is experienced in the use of EMTT, treatment is quick and simple and can significantly reduce the pain and stiffness. Many patients report a significant improvement in their symptoms after just a few sessions although usually between 6 and 8 treatments are required although this will vary depending upon the patients ailment and the severity of their condition.
What is EMTT used to treat?
The Magnetolith is used to treat a range of musculosymptoms and disorders  Helen has it particularly for degenerative spinal conditions such as in the neck and low back provided one does not need surgery,.  Conditions which respond favourably to EMITT therapy include: Joint Pain including wear and tear conditions such as osteoarthritis of the knee, hips, hands and shoulders, herniated discs and spondyloarthritis. Pain Relief and Chronic Pain including back pain, lower back pain/lumbago, tension, nerve root pain (radiculopathy) and Sports Injurys such as chronic inflammation of tendons and joints, tendon overuse syndrom and inflammation of the pubic bone (ostetis pubis).
Its been fab to walk again without constant pain
… believe me if you're in pain, especially with your back, this lady and this new 'stimulating the motor neurons of the muscles' machine that Helen uses will have you skipping in no time. My road to recovery is now short and light to look at and I can't thank Helen enough, would recomend her to assist you on the road to recovery too.

Miss E Graham, Edinburgh

To read more independent reviews of the How Osteopathic Clinic please visit our testimonials page
Contact The How Osteopathic Clinic
To book your Magnetolith EMTT appointment with Registered Osteopath Helen How, contact The How Osteopathic Clinic Edinburgh by email or telephone 0131 551 1044.
Treatment £46 per hour
Shockwave Therapy £52 per hour.
NEW! Half-hour treatment sessions now available – £30 per 30 minutes.
Remote Consultation via Telephone/WhatsApp & Physitrack rehabilitation programme – £30.00
Face to Face treatment – £50 for 50 minute appointment (10 minutes is required for administration).
Payment may be made by bank transfer (BAC's) or payment link, if paying by link, a 2.5% admin fee will be added.