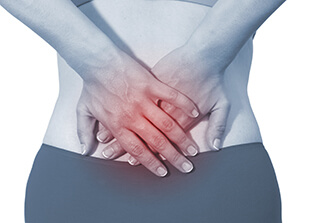 Osteopathy can be used as part of Pain Management Treatment for :
Back pain
Lower Back Pain
Joint Pain and stiffness
Neck Pain
Stiff Shoulders
Arthritis
Rheumatism
Neuralgia
Sports Injuries
What is meant by the term Pain Management?
The term pain management is used to describe the ways in which long term or chronic pain can be alleviated allowing sufferers to regain a measure of independence, gain relief from pain and improve mobility.
What is the definition of Long Term or Chronic Pain?
Medicine defines pain as one of two types.
Acute or Short-Term Pain is pain which has begun recently (with the last three months)
Long Term or Chronic Pain is defined as being pain which has lasted for three months or more.
What Causes Long Term Pain?
The causes of long term pain are varied. In some cases long term pain is due to a pre-existing medical condition such as arthritis. Alternatively, long term pain can be caused by a condition which medical science does not yet fully understand such as back pain. In some cases long-term pain is caused by a malfunction in the body's pain system.  The Electromagnetic Therapy which Helen has now available is Magnetic Waves that are safe work on the cellular level so that your cell`s natural abilities to produce cellular anti inflammatory processes which reduce your pain, swelling and enable better mobility and movement
The Role of Osteopathy in Pain Management Treatments
With nearly thirty years experience as an Osteopath Helen How is experienced in diagnosing and treating cases of long term and chronic pain. Although Osteopathic techniques cannot cure long term pain; the holistic approach of Osteopathy means that it is often extremely effective when administered as part of a Pain Management Treatment program and it can be extremely successful in reducing tissue inflamation The Storz Medical Magnetolith which Helen has been had available from May 2020 is proving to be much more beneficial in combination with appropriate rehabiliation  Here is the link to the Magnetolith as the list is too long to be included in on this page
Depending upon the diagnosis, a number of different osteopathic techniques and treatments may be used. These may include massage of muscles and connective tissues to reduce inflammation, gentle manipulation of joints and stretches. These treatments are designed to reduce muscle spasms, ease swelling and increase joint flexibility.
Delaying Hip Replacement Surgery
Having been in pain for years I was diagonsed with osteoarthritis in my hip and advised I would need a hip replacement which would be delayed as long as possible as I am only 38. I was horrified at the prospect of waiting as I was in so much pain.

Thanks to Helen the pain is almost gone, her treatment now allowed me to return to the gym and exercise and my life is almost back to normal. Long may this last!!

Clare, Edinburgh

To read more independent reviews of the How Osteopathic Clinic please visit our testimonials page
Contact The How Osteopathic Clinic
For more information on Pain Management at the How Clinic or to arrange an appointment with Edinburgh osteopath Helen How, contact The How Osteopathic Clinic Edinburgh by email or telephone 0131 551 1044.
COVID 19 APPOINTMENT INFORMATION
Remote Consultation via Telephone/WhatsApp & Physitrack rehabilitation programme  – £30.00
Face to Face treatment – £50 for 50 minute appointment (10 minutes is required for administration).
Payment may be made by bank transfer (BAC's) or payment link, if paying by link, a 2.5% admin fee will be added.
Storz Medical Radial Shockwave Therapy £52 per 50 minutes (one hour appointments 10 minutes for administration)
NEW FOCUS Storz Medical Shockwave Therapy £80 per 50 minutes. (Focus shockwave therapy requires fewer treatment sessions than Radial Shockwave Therapy).
NB: If you have Private Health Insurance for BUPA, CIGNA VITATLITY HEALTH, AXA PPP or another please bring your membership number with your Claim Code as it is all submitted via HealthCode.