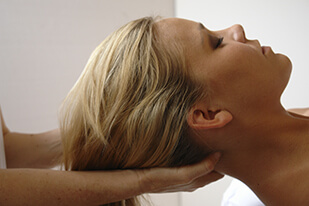 Cranial Osteopathy is used to treat a range of conditions including:
Neck pain
Joint Pain
Sports Injuries
Headaches
Migraine
Lower Back Pain
Period Pain
Cramps
What is Cranial Osteopathy?
Cranial Osteopathy is a gentle and effective method of diagnosis and treatment, which recognises the subtle mechanics of the head and their impact upon the wellbeing of the body.
Cranial Osteopaths are trained to detect the variations in the subtle rhythmical shape change present in the all body tissue. This movement is known as the Cranial Rhythm or Involuntary Motion. Damage to the head or neck may disrupt the cranial rhythm and cause discomfort and pain throughout the entire body.
How does Cranial Osteopathy Work?
Cranial Osteopathy uses gentle manipulative techniques to realign the musculoskeletal structure of the head and neck and restore the cranial rhythm.
Edinburgh Osteopath Helen How is a trained and highly experienced Cranial Osteopath and depending upon her diagnosis of your complaint, may incorporate Cranial Osteopathy into your osteopathic treatment if she feels that it will alleviate your symptoms.
What is Cranial Osteopathy used to treat?
Commonly treated symptoms which can be relieved by Cranial Osteopathy include; Back and Lower Back Pain, Joint pain, Migraines and Headaches, Neck Pain, Sports Injuries, period pains and cramps.
Is Cranial Osteopathy Safe?
Cranial Osteopathy is a very safe, gentle form of osteopathic treatment – so gentle that patients have fallen asleep during it! Because it is such a gentle form of osteopathy it is suitable for all ages and conditions and is often used to treat ailments in children and babies.
Cranial Osteopathy – So Gentle Yet Incredibly Effective
The craniosacral therapy I receive as part of my appointment is another part of the wide ranging treatment options Helen practices. It is so gentle yet incredibly effective…

Avril, Edinburgh

To read more independent reviews of the How Osteopathic Clinic please visit our testimonials page
Cranial Osteopathy at The How Osteopathic Clinic
To arrange an appointment with Edinburgh osteopath Helen How, contact The How Osteopathic Clinic Edinburgh by email or telephone 0131 551 1044.
Remote Consultation via Telephone/WhatsApp & Physitrack rehabilitation programme  – £30.00
Face to Face treatment – £50 for 50 minute appointment (10 minutes is required for administration).
Payment may be made by bank transfer (BAC's) or payment link, if paying by link, a 2.5% admin fee will be added.
Storz Medical Radial Shockwave Therapy £52 per 50 minutes (one hour appointments 10 minutes for administration)
NEW FOCUS Storz Medical Shockwave Therapy £80 per 50 minutes. (Focus shockwave therapy requires fewer treatment sessions than Radial Shockwave Therapy)
Half-hour treatment sessions now available – £35 per 30 minutes.
Helen is recognised by most Private Health Insurance Companies including Bupa, Cigna Vitality Health  AXA PPP Please bring your membership number and Claim Code as invoices submitted by HealthCode