The Treatment Room at the How Clinic
The How Osteopathic Clinic is situated in part of a private residence in Trinity, Edinburgh and has been used as a practice centre by osteopath Helen How for 35 years.
Refurbished to the highest standard by 7plus7 ltd in July 2023, the new interior of the treatment room has been carefully designed to provide a quiet and relaxing space which enables patients to fully engage with their osteopathic treatments.

Treatment Room at the How Osteopathic Clinic
The treatment room at the How Osteopathic Clinic has been recently refurbished (July 2023) and provides a warm, tranquil and non-threatening space where patients are able to fully relax and benefit from the osteopathic treatments provided by Helen How.
Cleanliness and hygiene are of paramount importance at the How Clinic and the treatment is room is throughly steam cleaned before every appointment. Hand sanitiser is also available outside the room. The new layout of the Treatment room ensures that the highest level of cleanliness is maintained.
The How Clinic carries out a patient centred approach and the refurbishment of the treatment room ensures that osteopathic treatment at the clinic is carried out in a comfortable, clean and empowering enviroment. If you have any questions please contact osteopath Helen How by email.
The New Treatment Room at the How Clinic Edinburgh
The treatment room at the How Clinic Edinburgh was newly refurbished in July 2023.  The How Osteopathic Clinic would like to thank 7 Plus 7 Construction Ltd who were responsible for the refurbishment, from design to construction and who were tireless in their attention to detail.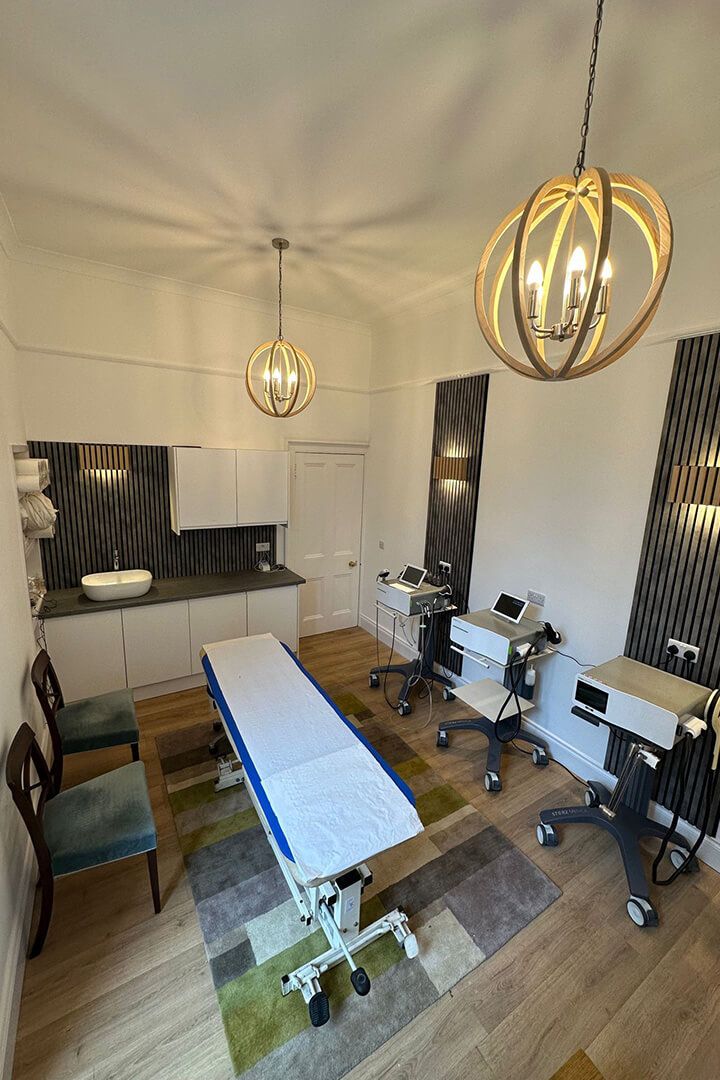 Patient Feedback
To read more independent reviews of the How Osteopathic Clinic please visit our testimonials page
"I first visited Helen about a year ago with my hip. I am a competitive ballroom and Latin dancer and had been in sheer agony for 18 months. GP said it was probably arthritis and take paracetamol . I had not slept properly in that time and thought my dancing days were about to be over. Helen diagnosed tendonopothy to a number of areas and suggested shock wave. After a single session to my hip, 18 months of agony and sleepless nights disappeared overnight. She then went onto clear up all my other injuries....Both knees, Achilles, wrists, elbows and the other hip. Thanks to regular maintenance from Helen with shockwave I dance 15 hours per week injury free. Thanks Helen you are a star"
Osteopathic Treatments At the How Clinic