Case Studies: Shockwave Therapy
The How Osteopathic Clinic is the first osteopathic clinic in Scotland to use Focus Shockwaves, Radial Pressure Waves, and Extracorporeal Magnetotransduction Therapy and as one of a small team of Vennhealthcare Shockwaves Educators in the UK, Helen provides a comprehensive educational and treatment programs using Shockwaves as part of her osteopathic treatments enabling people from all walks of life to benefit from osteopathic and rehabilitation treatments which had hitherto been the preserve of elite sportsmen and sports woman. Please see below for some recent case studies of patients who have been treated at the How Clinic Edinburgh. All case studies are online with the patients informed consent.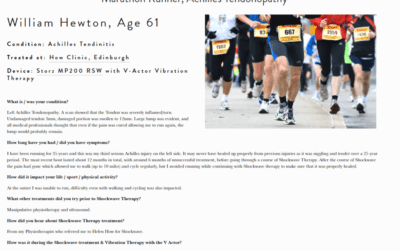 Here is a recent Achilles tendinopathy success story where William makes a full recovery and continues to run happily pain free.
read more
Shockwave Therapy can be used to relieve a wide-range of symptoms including:
Patient Feedback
To read more independent reviews of the How Osteopathic Clinic please visit our testimonials page
"Over 30 years of running had finally caught up with my Achilles. This time the injury was so bad I had difficulty even walking. Helen has me back running again. Her experience and knowledge combined with Shock Wave Therapy, and the other machines she uses has worked wonders. Together, we also worked out a rehabilitation programme involving stretching/exercises and long slow strength building activity. Thanks Helen."
Other Osteopathic Treatments At the How Clinic