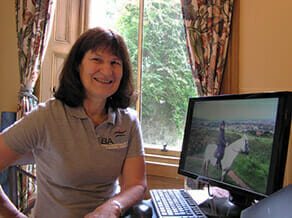 Osteopath Helen How has been treating patients at the How Osteopathic Clinic in Trinity, Edinburgh for over thirty years.
Welcome to the How Osteopathic Clinic
Edinburgh osteopath Helen How has been successfully treating patients at the How Osteopathic Clinic in Trinity, Edinburgh for over thirty years.
A Registered Osteopath, Helen combines the latest advances in osteopathy with a gentle patient-centred approach to diagnosis and treatment.  Osteopathic treatment at the How Clinic is suitable for a wide-range of conditions including; back pain, neck pain, sports injury, arthritis and repetitive strain injury.
Patient-Centred Osteopathy at The How Osteopathic Clinic
Osteopathic treatment at the How Osteopathic Clinic is tailored to the individual and a combination of osteopathic techniques including Traditional Osteopathy, Cranial Osteopathy, Electrotherapy, Vibrotherapy and Sports Remedial Massage may be used to treat your condition.
The How Osteopathic Clinic in Edinburgh is also one of the only osteopathic clinics in Scotland to use Shockwave Therapy, a gentle and highly effective osteopathic treatment designed to alleviate symptoms rapidly and which can often significantly reduce the number of osteopathic treatments required.
Very Effective Treatment at a Very Reasonable Cost
I have been going to Helen for over 18 months now and have been delighted with the results. Over the years I have had various forms of treatment from different private health care therapists. These treatments have been expensive, with extremely short appointments and in the long term were ineffective. Helen's treatments by contrast are half an hour or an hour long and have been extremely effective.

The combination of traditional osteopathic manipulation and massage techniques that Helen uses alongside use of her flexomatic massage machine and the electrotherapy has been a great combination for me. Overall I'm delighted I found Helen…not only is she a great osteopath but she is also always very kind and welcoming.

K Bryson, Edinburgh

To read more independent reviews of the How Osteopathic Clinic please visit our testimonials page
Contact The How Osteopathic Clinic
For more information on Osteopathy or to arrange an appointment with Edinburgh osteopath Helen How, contact The How Osteopathic Clinic Edinburgh by email or telephone 0131 551 1044.
Treatment £50 for 50 minutes each appointment which takes  one hour however please not that 10 minutes is required for administration
Storz Medical Radial Shockwave Therapy £52 per 50 minutes .(one hourly appointments 10 minutes for administration)
NEW FOCUS Storz Medical Shockwave Therapy £80 per 50 minutes Focus shockwave therapy requires fewer treatment sessions than Radial Shockwave Therapy
Half-hour treatment sessions now available – £35 per 30 minutes.